Here at Long Lane Surgery, we offer Carpal Tunnel Release under Local Anaesthesia, which is carried out by Dr Rushman. Before having this procedure, it is important to understand what the operation will involve, the potential complications and the long term outcome.
Below you will find information about the procedure and the answers to our most Frequently Asked Questions.
If you need any more help or advice, please contact us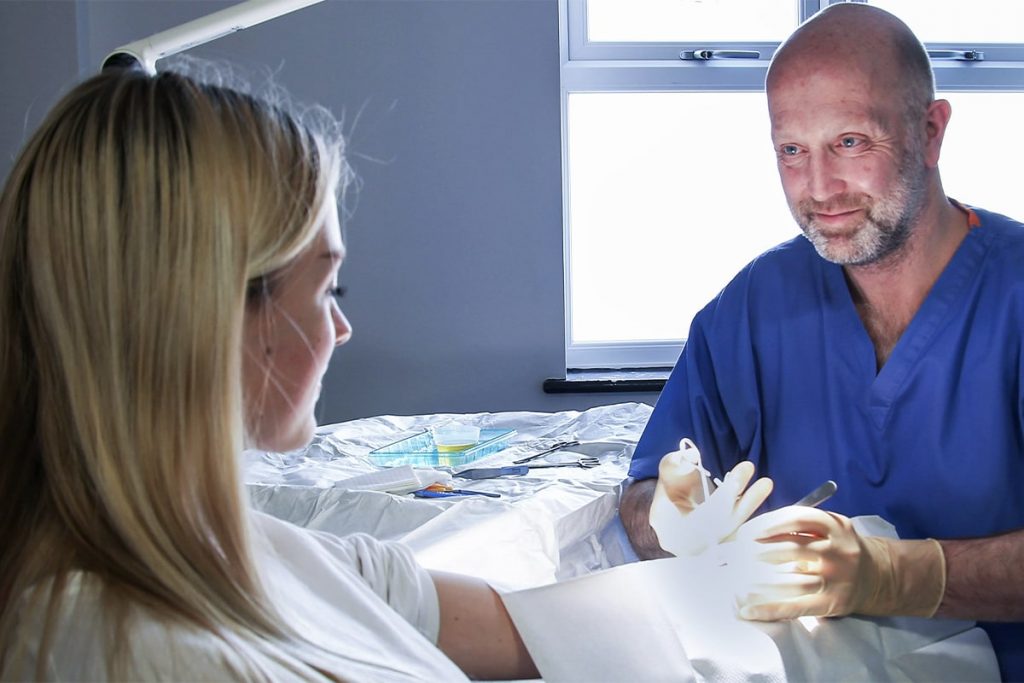 Downloadable Information
Here you can download our Hand Surgery Consent form and our Post Operation Information Leaflet.
Complications and Long-Term Outcome:
When undergoing any procedure, it is important to understand the potential complications you may face and the long term out come. Below is some information coving all potential complications and information about the outcomes.
Bleeding
Bleeding often stops post procedure. May form a self-resolving clot under the skin.
Pain
Usually short term from the operation itself. Please take regular pain killers like paracetamol and ibuprofen (if you are allowed to take it) for 3- 5 days post-surgery.
Stiffness and swelling
Stiffness and swelling – moderate stiffness and swelling is common and is worse with pre-existing arthritis. Please keep your hand elevated and fingers moving.
Infection
Infection: very rare due to the precautions taken. May require antibiotics and/or further procedures.
Nerve damage
Nerve damage - causes tingling and numbness (usually temporary). If severe damage, may require further investigations, repair or leave a long-term weakness and pain.
Grip Strength
Affects 30% of patients and experience a decline in grip strength and dexterity. Some patients who have jobs requiring significant hand and wrist strength may not be able to perform them after surgery. Studies indicate that 10-15% of patients change jobs after this operation.
Scarring
The scar may remain tender for up to a year. Sometimes, the nerve can get caught up in the scar. This can cause long term pain and numbness as the nerve is stretched or compressed. May require re-surgery.
Complex regional pain syndrome (CRPS)
Complex regional pain syndrome (CRPS) - is a group of symptoms that can include pain, swelling, and stiffness. Very rare and spontaneous improvement occurs in some people. Others may have long-term changes despite treatment.
Recurrence
If pain and symptoms return, it may need further investigations and treatment due to unusual anatomy or nerve pathway in certain people. The release procedure may be repeated.
Recovery
The outcome is usually a satisfactory resolution of the symptoms. Night pain and tingling usually disappear within a few days. In severe cases, improvement of constant numbness and muscle weakness may be slow or incomplete. It generally takes about three months to regain full strength and a fully comfortable scar.
Frequently Asked Questions
Can I use my hand after the surgery for carpal tunnel syndrome?
Starting immediately, you can move your hand for gentle range of motion. No lifting anything heavier than a telephone or coffee mug for 2 weeks.
Can I drive after surgery?
You may not drive yourself home from surgery. You must have a driver.
You may not drive when you are taking narcotic pain medication.
Your surgeon will tell you how long after your surgery until you can drive again.
How long will I be off work after surgery?
When you can return to work depends on your progress, as assessed by your surgeon. Generally, you can return to work in 1 to 2 weeks.
Emergency Care - Seek help as soon as possible if you have:
Severe pain or swelling
Nail discolouration from pink to white or blue
Excessive bleeding or drainage
Increased redness
Fever of 38 degrees or greater